It took a little while but I've managed to complete page 8, which you are welcome to view in all its glory at
Tomb of the Undead
. [Don't forget to click on "Follow" to basically say, "I was here."] Following won't commit you to anything, you won't even get an email or anything - you simply leave an icon that tells me that you are following along.
Also - in other graphic novel news: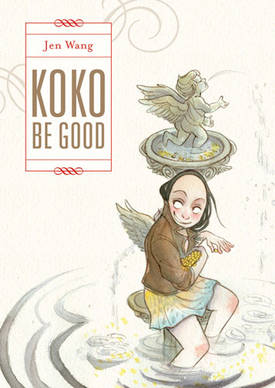 Koko Be Good: complex and satisfying graphic novel about finding meaning in life complex
by Cory Doctorow
Jen Wang's Koko Be Good continues publisher FirstSecond's amazing run of thought-provoking, challenging graphic novels for adults. It's the story of Koko, a "free spirit" in San Francisco who trades on her manic energy and good looks to bumble by in mooched accommodations, borrowed clothes, and sponged meals. Then she meets Jon, a driven young man who is about to sell everything he owns to move to Peru, where his girlfriend is working in the remote orphanage her mother grew up in.

Jon isn't sure about his move, but he feels he needs to be. He quit his band after finishing college (they're now becoming an indie sensation, which puts some urgency into his choice to succeed at something other than music), and now he's not sure what his life is for or what it will come to.

When Jon meets Koko (she steals his tape recorder after a raucous performance at the Zeitgeist in the Mission), he finds himself subject to her withering scorn and tough questions. But the interrogation isn't one-way -- in the process of criticizing Jon's do-gooder ambitions, Koko comes to realize how empty her own life is.

The two of them enter into a struggle to find meaning and happiness -- to be "good" -- and embark on a difficult journey that involves a huge cast of minor characters all engaged in their own existential battles.

All the above makes the book sound moody and brooding, but it's anything but. Koko Be Good brims with manic energy and comedy, a complex story engagingly told with ingenious layouts and lovely art.
Doesn't that sound nice?
Anthony Bourdain to Cook up 'Ultra-violent Food Nerds' Graphic Novel at Vertigo
By Andy Khouri
Scourge of the Hawker Stalls. The Man Who Will Put Anything in his Mouth. Matter-Eater Lad. These are but a few possible superhero monikers for chef Anthony Bourdain, the culinary thrillseeker best known for his best-selling "Kitchen Confidential" and "No Reservations" on Travel Channel. You see, having presumably run out of unspeakably horrible things to eat as well as "Top Chef" contestants to terrorize, Bourdain is turning his attentions to the field of graphic novels via DC Comics.

As reported by Robot 6, Bourdain revealed in recent interviews that he is writing "Get Gyro", which he described as a graphic novel about "ultra-violent food nerds". "It's a gourmet slaughter-fest, sort of like 'Fistful of Dollars' meets 'Eat Drink Man Woman.'" If that doesn't sound insane enough, the acerbic chef also pitched his book as, "'Yojimbo' meets 'Big Night' and 'Babette's Feast', an ultra-violent slaughter-fest over culinary arcana.'"

Although no illustrator was mentioned, Bourdain said he's working with DC on 'Get Gyro', but Bourdain swears a lot so we can probably assume the book will be released by the publisher's Vertigo imprint.
There we are - graphic novels are now being written by chefs in their little spare time. I'm definitely among the right folks.