Here's the third page of the next scene,
All in
, and the last page of Act I for Tomb of the Undead. I'm pumped that we've finally come this far. Forty-four pages is a significant achievement, and I think you should go back and re-read the whole thing to get a feeling for the characters, the plot points and the effort that I put into this.
Plus, it'll be fun.
Graphic novel news
Writing your story for a graphic novel
James Aric Keith
Squidoo
The actual writing
Now that about a week or two worth of planning is out of the way, you should be able to run through your story with ease. You already know what all of the plot points are. You should not encounter any blank page syndrome or writer's block because you already have a plan all the way to the end. And most importantly you should already have that all important connection to your characters.

So the next thing, and it has already been mentioned, is to create your character sheets. Which means you should know their back stories. Why they are like they are. Your characters could explore this in side chapters in your story. Or there could be room for a spin off sequel when this graphic novel is finished. If your story is involved enough, you should be able to think of your core characters as you friends.

I remember reading about Jerry Jenkins, the writer of the Left Behind series, saying that when he started killing off the main characters, it felt like his friends were dying. Because he had lived with these people in his head for all of those years during his writing of the series.

That is where you will need to be. If you want you characters to be memorable, that is.

Build strong characters.

Now I don't mean they all have to be Superman. That was not what I meant by strong. In fact, in most graphic novels these days, the main character has so many flaws, you wonder if they will ever amount to anything. But, create reasons for those flaws. Don't just say they exist because that's the way he/she is.

In my story, The Unbeaten Path, William Barcho is a brilliant scientist who experimented with using electronic scanning to try to "see"other dimensions. But, he woke something that our dimension isn't supposed to even understand, much less even be able to see. That something attacked his family on a fishing trip and sank the boat. Killing all but he and his daughter Meegan. Meegan is now confined to a wheel chair. He blames himself. Psychologically, he is completely broken. He is Obsessive Compulsive and is living in seclusion on the Nevada desert keeping himself and his daughter alive with a garden that he tends according to his Lakota upbringing in the "old" ways.

He is not a main character. Although he acts in a mentoring archetype, he actually ends up being a unwilling trickster archetype in most of the story, because of his unwillingness to confront, or allow anyone else to, the creature he unleashed. Another of my stories that I would love to see in Graphic Novel form!
Click to
read more
.
Daytripper - graphic novel review
Comicrevolution.wordpress.com
comicrevolution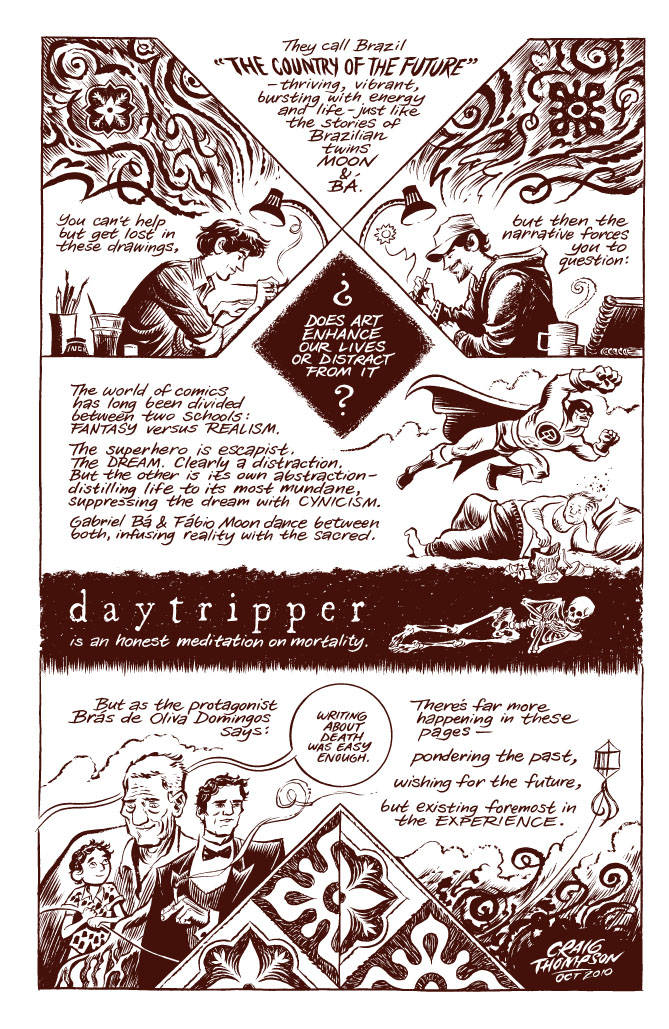 How do you measure a human life? Is it by weighing your list of accomplishments or recognizing major events as well as the moments that may seem insignificant? Perhaps it is all of these things and as we can see in Fabio Moon and Gabriel Ba's Daytripper – a graphic novel that celebrates life's big moments as well as the little moments that are just as important but also recognizes death as a part of life.

Daytripper introduces us to Bras de Oliva Domingos, son of a famous Brazilian writer and something of a writer himself since he pens some genuinely touching obituaries for the local newspaper in Brazil. Called the "Little Miracle" by his mother due to an event that took place during his birth, Bras finds himself thinking of ones mortality. On the evening he was attend a gala in his father's honor, a stop to a nearby bar results in Bras' death by the hands of an armed thief.

Yet this is not the end of the story for Bras' life is filled with life's little and big moments that keep including death. We find Bras in his twenties as he and his closest friend, Jorge, take a little trip to the beautiful city of Salvador where he meets a gorgeous and voluptuous woman named Olinda who he instantly attracted to and spends a memorable night with in this beach-side paradise. It is that same Olinda that a few years later breaks his heart by storming out of his place. A year later, however, Bras finds love again while getting his morning coffee … and finds death again crossing the street after deciding to go back and talk to the beautiful woman that caught his eye.

Life takes another turn for Bras as he and the same woman he met in the café is expecting their first child only for Bras to miss out on his son's birth returning home to get something his wife requested. Unfortunately, the day of his son's birth is also brings with it the death of Bras' father. The young man looks back on his childhood as the family often took trips to their kin's cottage when Bras' father would use as the perfect opportunity to write. It is in one of those trips that young Bras experienced his first kiss under the winding roots of a tree with a pretty half-cousin.

Then there's a defining moment in Bras' career with a commercial airliner crashes at takeoff and pushes the man to write several obituaries for each confirmed passenger from the flight. Not only is it beautiful stuff but it inspires him to write his first novel that becomes a success. At last, Bras feels like he has caught up with his father. Unfortunately, the book tour takes him far from his wife and son who miss him very much. On top of that, his best friend disappears only to be discovered in a rundown shack in a bad mental state.

We finally reach the end of Bras' life as a gray-haired Bras returns home after getting bad news from his physician. Bras isn't afraid of what awaits him … he never was in the many death we see through his eyes. The fact is simple: one experiences life and takes in all the things it has to offer. There are good moments in our lives and bad ones but they are a part of the big picture that makes up our existence.

Fabio Moon and Gabriel Ba paints this big picture called life in a way that you can feel what Bras goes through and relate to his ups and downs as well as the emotions that come with it. It's a powerful thing for a graphic novel to make you feel and Daytripper does it so effortlessly. The art is also considerably impressive and just as expressive as the writing itself. Even Dave Stewart's coloring is perfect enough that it compliments every panel to make this a beautiful-looking graphic novel.

Daytripper is as big and as meaningful as the story of Bras' life and it will not fail to make us think and feel and wonder, which is a rarity within itself. With magnificent storytelling and artwork that is equally stellar, this graphic novel is easily one of this year's best graphic novels and one that should be on anyone's list regardless of your favorite genre. This is storytelling at its more perfect and I cannot recommend this one enough.
Click to
read more
.
Cross Game graphic novel vol. 1 by Mitsuru Adachi
Dennis Amith
nt2099.com
Mitsuru Adachi is one of the most highly respected mangaka in Japan.

He is also known for his manga that revolves around baseball and high school/grade school crushes. But Adachi's most famous work is "Touch", a baseball/romantic comedy and a winner of the 1983 Shogakukan Manga Award (his second consecutive award a year after his highly successful high school romantic comedy manga "Miyuki").

The manga series for "Touch" was award-winning, the anime series is one of the highest-rated television anime series of all time and it was a story that literally made audiences cry as it featured a story of friendship, tragedy, loss, inspiration and hope.

Adachi would go on to feature other stories that revolved around other sports but one wondered if he would return to baseball (which is a very popular sport in Japan) and in 1992, Adachi would write a baseball-related manga series titled "H2″.

Over 13 years later, fans continued to clamor for another baseball-themed anime series and Adachi would return with the manga series "Cross Game", similar to "Touch" would feature a romantic comedy that would feature friendship, tragedy, loss, inspiration and hope.

And with Adachi's first baseball manga series "Nine" along with "Touch", "H3″ and "Cross Game", the goal of the baseball players and characters are to make it to "Koshien" which translates to "tournament" and in Japan there are the "National High School Baseball Invitational Tournament" held in the Spring and "National High School Baseball Championship" in the Summer.

In Japan, the final 17th volume of the manga series was released in Japan and now, "Cross Game" will be released in the US in graphic novel format (compiling several of volumes into one release). "Cross Game Graphic Novel Vol. 1″ compiles the first three manga volumes into one collection.

"Cross Game" is a manga series that showcases the development of a Ko Kitamura, the son of a family that owns Kitamura Sports, during the time he is a 5th grader, a junior high school student preparing for high school and then later on in high school.
Click to
read more
.