Here's the next page for Tomb of the Undead. You can check the whole scene out at
Trapped on an airplane
.
This scene gets cool in a little bit, so check it out.
Graphic Novel news
'Super Dinosaur' ready for a dino-mite debut
By Brian Truitt
USA TODAY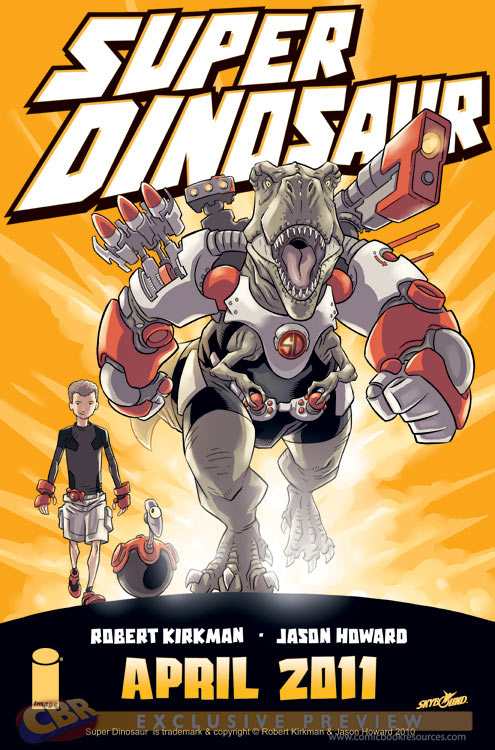 Robert Kirkman likes to think that every kid is enamored with dinosaurs — even the overgrown kids that enjoy his more adult comic books.

"Big giant monsters that looked awesome that actually existed? How do you not love dinosaurs? If anyone out there doesn't like dinosaurs, I would like them to contact me and explain that," says the writer and creator of The Walking Dead.

Kirkman is teaming again with his partner from The Astounding Wolf-Man, artist Jason Howard, for Super Dinosaur, a new all-ages book debuting April 20 on Kirkman's Image Comics imprint, Skybound. The comic will be available in comic shops as well as digitally on the Image Comics app for iPad and iPhone.

In addition, the Super Dinosaur Origin Special debuts on Free Comic Book Day May 7 in comic book stores all across the USA. "That'll tell you exactly how he became a 9-foot-tall talking dinosaur that's as smart as a human and has giant mechanical arms he controls and uses to fight crime," Kirkman says.

Super Dinosaur has all the elements of a cartoon that kids over the years would rush home from school to witness: a relatable hero in boy genius Derek Dynamo; an awesome, well-weaponized character in Super Dinosaur himself; a nefarious baddie in Doctor Max Maximus; and panel-to-panel action.

Click to
read more
.
Corner: 'Popularity' sequel: Amy Ignatow's inner 5th-graders romp on
KAREN MACPHERSON
Scripps Howard News Service
When author/artist Amy Ignatow's book agent rejected her proposal for an adult graphic novel, he also had a word of advice.

"He told me, 'I don't want to offend you, but I think your work is very childlike,' and he suggested that I write for kids," Ignatow said in a recent talk with members of the Children's Book Guild of Washington, D.C. "The moment he said that, I thought, 'Yes! That's what comes naturally to me.' "

So Ignatow created "The Popularity Papers" (Amulet/Abrams, $15.95, ages 8-12), which was published last spring. Subtitled "Research for the Social Improvement and General Betterment of Lydia Goldblatt & Julie Graham-Chang," the book is presented as a colorfully illustrated, hand-lettered journal kept by the two fifth-graders as they try to figure out how to become popular.

Funny and realistic, this first volume of "The Popularity Papers" has become a smash hit with girl readers, and garnered rave reviews in School Library Journal, Publishers Weekly and The New York Times. Now, Ignatow has just published a sequel, "The Popularity Papers: The Long-Distance Dispatch Between Lydia Goldblatt & Julie Graham-Chang (Amulet/Abrams, $15.95, ages 8-12), in which the friends must cope with a six-month separation when Lydia's family moves to London.

Ignatow, 33, has been pleasantly stunned by her seemingly overnight success.

"I've been very lucky," Ignatow said. "I had a choice of publishers."

Born and raised in Huntington, Long Island, Ignatow has been drawing for as long as she can remember. She's also a lifelong record-keeper and journal-maker, something that helped her decide on the format for "The Popularity Papers."

Ignatow studied illustration at the Moore College of Art and Design in Philadelphia, graduating in 2002. Over the years, she's been a teacher, farmer, florist, short-order vegan cook, a dancing chicken, a wedding singer and a ghostwriter for Internet personal ads.

But Ignatow also has kept drawing.

Some years ago, she created a web comic called "Ig City" and sent a link to an agent named Dan Lazar, who liked her art and writing. So Ignatow decided to try writing an autobiographical graphic novel for adults. It was at that point that Lazar turned down the adult graphic novel, but helped Ignatow ignite her career by aiming instead for a kid audience.

Interestingly, Ignatow's career arc has parallels to that of Jeff Kinney, who hit it big over the past few years with his hugely popular "Diary of a Wimpy Kid" series. Like Ignatow, Kinney first targeted his work to an adult audience, but couldn't get published until he switched his focus to young readers.
Click to
read more
.
Graphic novelists shake up world of Indian comics
Atish Patel
Reuters.com
NEW DELHI (Reuters Life!) - Characters from centuries-old myths and folktales have adorned the covers of children's comic books in India for decades, but a new wave of graphic novelists has emerged to shake up the art form.

Their quest for ultra-Indian superheroes has created new crossover comics aimed at both children and adults, while others have boldly gone further, tackling issues such as suicide and homosexuality -- taboo topics in much of India.

"We are the new recorders of history. That's how I consider myself," said Sarnath Banerjee, whose graphic novel "Corridor" is set in New Delhi and delves into politics and sex.

"I write, I see through my own eyes and I put it out."

Generations of young Indians have grown up with the Amar Chitra Katha series based on Hindu epics and mythology, and it remains one of India's best-selling comic books series.

But the success of Banerjee and others, such as the pioneering 1994 black-and-white "River of Stories" by Orijit Sen that dealt with the social and environmental impact of a controversial dam, are prompting changes even among such traditional comic publishers.

Some are also looking to create brand new superheroes that are quintessentially Indian to see off competition from the likes of Spiderman and Batman, who have gained popularity with the onslaught of American cartoons and movies on Indian TV.

Indian superheroes are not the "cape-flying, spandex-wearing guy who is flying about, but a guy who is practical, who has an Indian outfit, who can connect to an Indian," said Karan Vir Arora, editor-in-chief of Vimanika Comics, a Mumbai start-up.

Vimanika Comics aims to bridge the gap between historical narratives and graphic novels, giving mythological characters a 21st century facelift.

The company's "The Sixth" series shows Karna, a warrior from the ancient Indian epic "Mahabharata," in a modern light. The series starts as a high-flying businessman, suffering from recurrent nightmares, discovers he is the reincarnation of Karna.

Another such publisher is Campfire, based in New Delhi, with "Ravana: Roar of the Demon King," a graphic novel of a story retold over centuries in India but this time seen through the eyes of its primary antagonist -- the demon king Ravana.

"We're trying to mix it. People have always related to these characters," Arora said.

"The characters are being shown in a very contemporary fashion, a stylish fashion."

The new blends sit well with both children and adults alike, meaning higher sales. Demand for "Ravana" is also high, illustrator Sachin Nagar says, although it has yet to be released. The company declined to provide pre-sale data.
Click to
read more
.