While you don't get much of the feel of racing through Marseilles, I thought my portrayal of the motorcycle was pretty well done, and the car was even close to good. I'm not a strong drawer of vehicles, but I was pretty happy with this.
I imaged a long, drawn out race scene, but figured that not everyone wanted to wait for three weeks, while I drew three pages of the story not progressing. Granted, this might be the type of thing that's more exciting to read, that there doesn't necessarily have to be a lot of talking to progress the story, IF you're moving it forward visually. In any case, here's page 73 from
Escape From M__.
Dr. Casey Miller, Dr. Howard Bolam and Evelyn escape from an unknown assailant in Escape from M____.
See more by following the links:
Folks I'm following
Here are a few links from the blogs I'm following these days. A great post from the talented Skottie Young [
Snow Day
], a series of podcasts from the incredibly useful (and edgy) Your Screenplay Sucks [
PODCASTS #10, #11, #12 are reaaaaaady and waiiiiiiting! More Filmmaking Sins!
] here's something of a year in review from Script Magazine [
WGA News: End of Year 2011
] and an amateur project that deserve just as much recognition as mine, Wonder [
Newfoundland and Other Things]
Graphic novel news
Read a one-on-one interview with Stan Lee, reflecting on his story in comics. As they put it, Lee's story is really the story OF comics. Pretty cool. Read how Caleb Melby (I think Caleb is a sweet name) is looking to using graphic novels as a new form of story telling (like unique maps) and finding the human element in stories to keep people reading. And one for my wife her passion for Adam Sandler + Chris Farley. A graphic-novel series on the Lunch Lady has GOT to be funny, or else it'd be nothing more than a tragedy.
Check it out!
Stan Lee Reflects on 70 Years in Comics
Joey Esposito

http://comics.ign.com
"Stan's story is really the history of comics and he was inspired by so many real-life events that were happening at the time, so it was covering history, comic book history, and it was covering his personal life which is the part that everyone is responding to," explained Dougas. "His relationship with his business partners, his friends, his wife. The guy's not as tough as he seems to be. He's a sweetheart."
Click to read more.
Why The Graphic Novel Will Save Business Journalism

Aziz Ali

psfk.com

[J]ournalism remains an industry in crisis. Caleb [Melby] believes that focusing on newer ways of storytelling (i.e. interactive maps, unique story ideas) and finding the human element (i.e business leaders, relationships within a particular industry) are the keys to saving journalism. The graphic novel therefore, is one form that can easily be leveraged to achieve this.
Click to read more.
Author of 'Lunch Lady' children's book series visits students at George L. Hess in Hamilton Township

JOEL LANDAU

pressofatlanticcity.com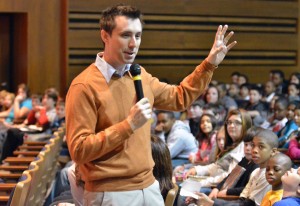 Children's author Jarrett J. Krosoczka used an active imagination and perseverance to turn stories he wrote in elementary school into a successful career and a popular graphic novel series.


Krosoczka spoke to the fourth- and fifth-grade classes Monday at the George L. Hess Education Complex to encourage children to write and draw using their imagination and creativity. Krosoczka, who writes and illustrates his books, showed students stories, which featured kitchen appliances, that he wrote and drew as an elementary school student.
Click to read more.